Interhouse lets your property
under the best conditions
The best national and international tenants
With Interhouse as your partner you always stand strong
Letting your property
When you have a residential property to let, your main priorities are a high-quality estate agent and high-calibre tenants. We understand this at Interhouse, and have done for over 20 years. Our knowledge of top-quality letting ensures that we provide a high-calibre selection of (expat) tenants and clear communications throughout the partnership. Our up-to-date knowledge of the industry and local presence enable us to provide you with an excellent service. That's why you are always at the right address with Interhouse.
Interested or questions?
Interhouse Letting packages
You can choose from four letting packages, adapted to different requirements. Whatever your objectives, there is always a package that suits you.
Basic letting package

The Basic letting package contains all the main elements you need, including professional letting advice, your residential property advertised on all relevant (international) websites and thorough screening of your future tenant. You also have a customised tenancy agreement containing the best terms and conditions and a detailed property inspection report on handing over the keys.

Comfort letting package

If you would prefer to leave the financial aspect to Interhouse specialists as well, then the Comfort package is for you. In addition to the advantages of the Basic letting package, Interhouse takes the financial and administrative work out of your hands as well. This includes rent collection, (communications on) rent increases and other correspondence. Carefree letting via Interhouse.

Full Service letting package

If you would like to be completely relieved of the burden of managing your property, we recommend our Full Service letting package. This contains all the elements of the Comfort package but with one very important addition: full technical management of your property, including a 24/7 emergency service. This means high standards can be maintained at your property, ensuring that your tenants are kept satisfied.

Guarantee letting package

If you seek the highest level of relief from the burden of managing your property, choose our Guarantee package. On top of the Full Service package, it also covers some of the costs for the property standing vacant and tenancy changes . Moreover, for a fixed percentage of the rent your return is guaranteed in advance and for the long term.
Investing through investment in real estate
At Interhouse we can advise you on investing in a good investment property. With our local knowledge and professional advice we assist you in the purchase, rental and management of the right object. The highest security, the lowest risks.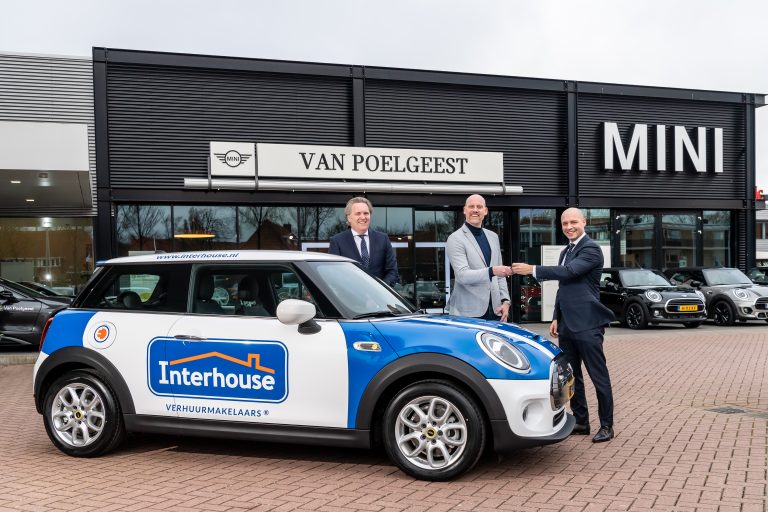 Bas Ros of Interhouse letting agents in Haarlem took delivery of a brand new, fully electric MINI from our regular supplier.
Excellent and very professional service. The communication is very efficient and prompt, making you feel in good hands throughout the entire rental process. I would highly recommend Interhouse!
Binnen een maand een perfecte woning in Hilversum. Communicatie zoals het moet zijn. Serieus, vriendelijk en een beetje humor. Debby en Carolijn hebben mij echt geholpen. Fijn! David
As a host I used this agency's services to set up the rental contract and do the check-in. Their advice has been very useful, they were always easy to reach if I had questions.
Carolijn and Debby have been instrumental in securing the perfect home away from home, immediate and clear communications and lovely attitude!!! Willing to go to the extra mile to make me comfortable. Thank you Carolijn.
Top communicatie en erg professioneel begeleid gedurende de huur van mijn appartement.
Snelle service, ben tevreden!