Interhouse property management Amsterdam
Amsterdam and environs is a dynamic and attractive area in which to own real estate. Interhouse Vastgoedmanagement Amsterdam specialises in managing properties and possesses the network and knowledge of relevant local laws and legislation it needs to serve you properly. The office is located on Ruishornlaan in Lisse, just 20 minutes by car from Amsterdam. You are very welcome to pay us a visit during our office hours.
Our employees
Each office has a team of expert and enthusiastic employees ready to assist you. All our offices are headed by motivated franchisees, guaranteeing a successful partnership.
Specialists
Each office provides a specialist service in an exclusive area. This means you can be assured of all the relevant expertise combined with the deepest knowledge of the local market. This guarantees the best-possible result for all our customers.
PROPERTY MANAGEMENT
After rental comes management. Proper and accurate management results in a satisfied tenant and ultimately a better return. Interhouse Vastgoedmanagement offers all real estate owners a box 3-proof solution for relieving you of the burden of managing your own property. From rent collection to a 24/7 emergency service. More information on property management.
Interhouse offers customised letting packages in addition to real estate management. For more information go to Interhouse letting agents.
Our area
This office covers all urban districts of the municipality of Amsterdam, but also Amstelveen and towns such as Uithoorn, Vinkeveen, Badhoevedorp, Diemen and Aalsmeer. An attractive area with plenty of job opportunities and a dynamic vibe. Our employees know this area – including all relevant laws and legislation – through and through, putting them in an excellent position to manage your valuable assets properly.
For many years, Interhouse property management has been managing my houses and I really like it. Every month I receive my rent on time and I receive a neat overview. I notice that my tenants are also satisfied with a professional manager. Together with Interhouse letting brokers, there is hardly any vacancy and I receive competitive rental prices and the quality of the tenant is extremely good.
Translated from Dutch
I always managed my apartments myself. I have been rid of these concerns for over 2 years now. Everything is taken care of and there is always only contact with me if necessary. Everything has become more professional and a tenant who always paid hard with me pays on time now. A number of final inspections have also been carried out and completed by them. Chapeau and I should have outsourced it earlier.
Translated from Dutch
After the some "fieldwork" we were convinced of Interhouse property management. That turned out to be the right choice. Rents are higher and our results are better, even after management costs have been deducted.
Translated from Dutch
Less worries, better returns on investments, satisfied tenants. Win win; I love it.
Translated from Dutch
In times when tenants are becoming wiser and laws and regulations are getting more complex, the added value of a good real estate manager like Interhouse is very great. They are nice and approachable people, but also act decisively and professionally.
Translated from Dutch
Latest blogs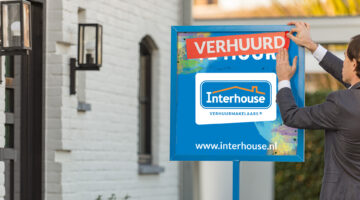 Box 3 is still causing a lot of discussion. Real estate investors are often heavily taxed under the current lump-sum system. For a more detailed ...
Our partners