Interhouse as your personal
rental estate agent
Professional estate agents working in your interests.
The most favourable terms and conditions
Interhouse as your estate agent
Looking for a rental residential property that suits you perfectly? Interhouse will do that for you. Our professional agents search for your ideal property and then negotiate the most favourable terms and conditions in your best interests and to your advantage. We will find you a suitable home as quickly as possible.
Interested or question?
A suitable rental residential property
Our professional agents will find you the most suitable home in just a few steps. Interhouse will assist you each step of the way towards finding your rental property:
Search

Using your personal profile and living requirements, our agents select and screen the most suitable properties for you. We conduct daily searches of the entire market. This ensures we always find the best match.

Viewings

In addition to finding you the most suitable rental properties, your agent will arrange viewings. Thanks to this screening process, you only view properties that appeal to you. We also evaluate the viewings together with you. If applicable, we decide on the terms and conditions and strategy for negotiations.

Completion

As soon as you have found and agreed to rent the right property, Interhouse analyses the tenancy agreement to check that it is legally correct and contains the agreed terms and conditions. Our agents ensure proper delivery via a thorough property inspection. This guarantees that you can live in your ideal rental property free of worry and under the best terms and conditions.
The advantages of Interhouse
If you task Interhouse with acting as your rental estate agent, you enjoy the following advantages:
Primary access to the range of available residential properties
Our professional and experienced agents have a large network. As soon as a new rental property comes on the market, we check it out on your behalf.
Professional negotiations in your best interests
Be assured of renting a property under the best terms and conditions with professional and pro-active representation by Interhouse. Our rental agents negotiate with your best interests in mind.
Experienced and professional rental estate agent
At Interhouse you will have at your disposal the expertise of your experienced and professional rental agent. You save time on searching, selecting and screening rental properties. You also save money, thanks to a legally-correct and favourable tenancy agreement.
Interhouse direct voor u aan de slag?
Verstrek uw woonwensen en gegevens in het formulier van een betaalde zoekopdracht.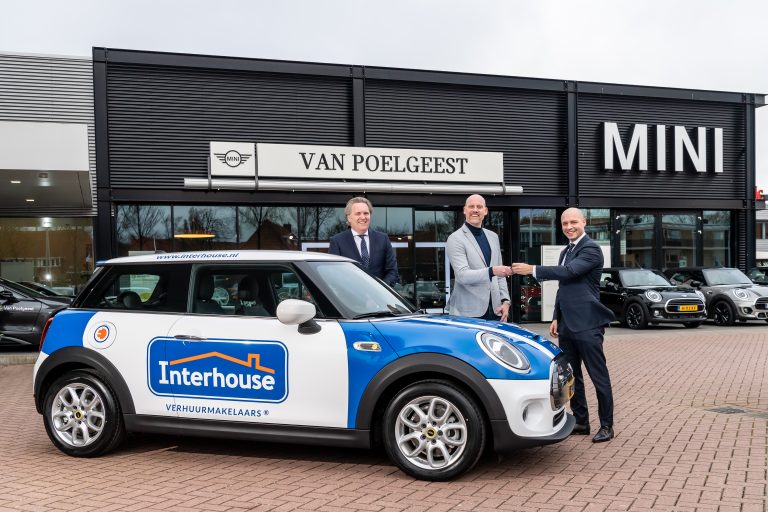 Bas Ros of Interhouse letting agents in Haarlem took delivery of a brand new, fully electric MINI from our regular supplier.
Interhouse is hands down the best Rental Agency in Amsterdam. Working with them for over 6 years, renting properties, very professional and reliable, definitely recommend them for renting your property as well as expats that are searching for the right place to live. Just give them a call or walk in and find out for yourself.
We are satisfied about the services offered by Interhouse. They always react quick and they are very reliable. Outstanding services level for us and for tenants with a broad and good network.
Thank you for all the help and support provided throughout the stay at Smaragdhorst. It really has made the stay more convenient for us as tenants.
Excellent and very professional service. The communication is very efficient and prompt, making you feel in good hands throughout the entire rental process. I would highly recommend Interhouse!
Binnen een maand een perfecte woning in Hilversum. Communicatie zoals het moet zijn. Serieus, vriendelijk en een beetje humor. Debby en Carolijn hebben mij echt geholpen. Fijn! David
As a host I used this agency's services to set up the rental contract and do the check-in. Their advice has been very useful, they were always easy to reach if I had questions.
Carolijn and Debby have been instrumental in securing the perfect home away from home, immediate and clear communications and lovely attitude!!! Willing to go to the extra mile to make me comfortable. Thank you Carolijn.
Top communicatie en erg professioneel begeleid gedurende de huur van mijn appartement.
Snelle service, ben tevreden!
Hartelijk dank voor alles wat jullie voor mij gedaan hebben. Ik vind jullie erg professioneel en menselijk. De waarden waar jullie als bedrijf voor staan, heb ik allemaal teruggezien en gevoeld in het contact. Chapeau. Ik zal jullie in mijn omgeving sterk promoten.