Tasking Interhouse with finding you a rental property
You're looking for a home that suits you perfectly. Once you've found it, you want to be certain of renting it at favourable terms and conditions and of using the correct tenancy agreement. This can be tricky in a hectic and often unfamiliar housing market in which demand is high and properties scarce. It takes knowledge, speed and the right network to find and rent the appropriate property. Even if you succeed in finding the right home, that's not the end of the process. How do you make sure you get the property and how can you be certain that the proposed terms and conditions and supplied tenancy agreement are fair and correct?
A task for an experienced specialist
You really need to be aware of all the (latest) property listings and available at any moment in order to be able to act properly. Interhouse rental agents can take these tasks off your hands. They can assist you throughout the entire process, from the property search to you receiving the keys. They conduct a search, notify you of the right properties and stop you making unwise decisions. Moreover, they set their specific expertise and vast network to work, allowing you to keep a cool head, and serve your interests from A to Z.
Why choose Interhouse rental agents and what will they do for you?
Search for a property
Based on your personal living requirements, your Interhouse rental agent searches for, selects and screens the most suitable properties for you. Each day they scour the entire regional housing market. They know your preferred location, all the regional agents and the local housing market down to the tiniest detail. Furthermore, they have access to the latest property listings that are sometimes not even on the market yet.
Find and negotiate
Your Interhouse rental agent will arrange viewings of any properties that look to be suitable. Thanks to this screening process, you only view properties that meet your criteria. After the viewings your agent evaluates them with you. If applicable, the agent then defines the terms and conditions and strategy for negotiating with the letting agent. This means they're always able to find you the most suitable property.
Sort out all the paperwork
As soon as the right property has been found and agreement has been reached on the terms and conditions, it's time for the paperwork. Your Interhouse rental agent checks that the supplied tenancy agreement is legally correct and examines the agreed terms and conditions. The agent is present when you receive the keys in order to ensure that your new property is delivered as agreed. They conduct a thorough inspection and check the meter readings. Your agent records everything in an extensive inspection report and detailed photographic report. This allows you to live in the ideal property free from cares and at the best terms and conditions.
Even more reasons to choose an Interhouse rental agent:
Save time and money
You save time on searching for, selecting and viewing properties. You also save money, thanks to a correct tenancy agreement at favourable terms and conditions.
Primary access to property listings
Interhouse's extensive network means that you have access to all properties, often even before they have been put on the market.
Professional negotiations in your interests
Interhouse rental agents negotiate professionally and pro-actively to your advantage.
Greater chance of success
Letting agents like to do business with rental agents. Your professional representation gives you a head start on other potential tenants.
Experienced and expert rental agents
The expertise and day-to-day experience of your Interhouse rental agent means that you avoid falling victim to malpractice.
Ideal service for expats
Searching for, finding and arranging a home is even more complicated in a foreign country. Many thousands of expats have already experienced the added value of Interhouse rental agents.
Latest blogs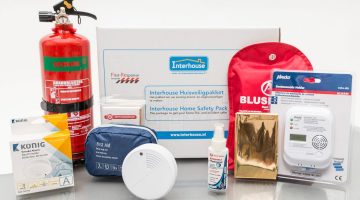 Safety in the home is very important. Prevention should be given the highest priority, both landlords and tenants need to be aware of this.
How customers experience Interhouse
I have recently moved to the Netherlands and found Interhouse office in Sassenheim extremely friendly and professional while looking for my new apartment. In fact they have even arranged a skype viewing for me as I was still abroad when I have seen a flat I liked on their website. A lot could be arranged online and over the phone and with every request their team (Marcel, Kelly and Anna) were happy to assist in a timely manner. They really made the whole process easy and smooth. I would recommend them to anyone! ?
We have rented a nice apartment through Interhouse. From the moment that we indicated that we were interested in the apartment, we were treated in a friendly and helpful manner. During the further process, the broker thought along with us and was flexible. The contact with the secretary and the broker went smoothly and quickly. We received a response the same day. We experienced the cooperation as pleasant. Interhouse adheres to the agreements and is clear in its communication. If you want to rent a house, we recommend Interhouse as a rental agent.
Translated from Dutch
My current home is being completely renovated, so after 5 years I had to start again with a house hunt in the big city ... that went very well, thanks to the people of Interhouse! I am really very satisfied with their personal contact and professional communication. I don't think I could have done better elsewhere. Thank you very much, Interhouse, for taking such good care of your customers, because this made the relocation process much less difficult!
Translated from Dutch
We have been renting through Interhouse for six months now and are extremely impressed with their service. We did not view the house in person before moving in, but this did not affect the service; Interhouse ensured paintwork was refreshed and new carpets laid - and they even asked us about our preferences. Although the property is virtually maintenance-free, minor technical issues have been attended to very promptly and efficiently, and a broken washing machine was even replaced within 24 hours. The team are friendly and professional, and we thoroughly recommend them!
I had been looking for a rental home in the Bollenstreek for some time. I ended up at Interhouse via Google. What a relief compared to other rental brokers! Interhouse Sassenheim responded very adequately to my rental wishes and found a suitable home within 1 week. All agreements were neatly and quickly confirmed. And I always got an appropriate answer to my telephone questions. Interhouse Sassenheim is highly recommended. Fast, a deal is a deal, and transparent. This is renting as it should be.
Translated from Dutch
From the first contact with Interhouse they were quick to respond and very helpful. Pim van der Deijl assisted us from start to finish and was very professional. As an expat, I found them easy to work with and they were very helpful to answer our specific questions.
Professional, Helpful, Understanding, Availability. Thanks especially to Pim for his input, follow-up and understanding.
Due to a job change, we as a family had to move quickly. Travel time would increase greatly if we continued to live where we lived. This happened during the ''intelligent lockdown'' a time with a lot of uncertainty. Via Interhouse we found a beautiful rental house in the pleasant municipality of Voorhout. The appointment for viewing was quickly made, and there was also quick clarity about the documentation that was expected of us. The assessment and the signing of the contract went very fast. Within a month we were in our lovely house with a garden. We really like the house and we are very happy that Interhouse has helped us to take this step in this special time!
Translated from Dutch
Very satisfied with Interhouse's service and speed. Everyone knows what they are doing and that is why they all have their answers ready. I would certainly recommend Interhouse as an intermediary for renting a house / apartment. Thank you!
Translated from Dutch
Our partners