Investing in real estate
Looking for a safe haven for your money or savings and want to earn a sound return? Then it's important to invest wisely. You could invest in stocks or entrust your money to providers of all kinds of products that promise attractive returns, but beware!
Returns that sound too good to be true are often precisely that. A poor investment can even lead to you losing all your money. The solution is to opt for a sound strategy with a team of specialists.
How can I invest wisely?
A smart investor invests in the right real estate. As you are buying a tangible asset, capital retention is guaranteed and a sound return is perfectly feasible. Interhouse letting agents have many years' experience of successful consultancy in smart investing. Our experts know exactly which properties make attractive investments.
Our unique approach means that an expert and experienced Interhouse specialist is available for each stage of the process. These specialists keep in close contact with each other. All decisions are therefore based on detailed information and taken in consultation with you, reducing the risk to you and assuring you of the best-possible return on your investment.
Why should I invest with Interhouse's help?
Ultimate local market knowledge in each area of expertise
The Interhouse buying agents, Interhouse letting agents and Interhouse real estate management specialists are all completely at home in the area in which your future real estate investment is located. This local market knowledge is crucial to achieving the best results on your behalf.
Familiar with the latest laws and legislation
A property may look like a good investment at first sight. Yet local or national laws and legislation can have a fairly negative impact on this picture. Aspects such as the housing evaluation system, security of tenure, local byelaws, zoning plans or residents' association regulations all need to be examined carefully. It takes knowledge and experience to protect you from legal surprises.
Low risk profile
Real estate investment also involves risk and can be unpredictable. All the Interhouse specialists keep a close eye on all the variables at all times in order to minimise the risk for you. A carefully considered purchase is followed by a thorough letting process and subsequently effective management. The result: you are the owner of a sound investment.
Smart investment
Purchasing the right investment on the advice of Interhouse is a smart investment. Experience shows that a return of 4 to 7.5% is realistic. Furthermore, your readily marketable real estate can be sold at any time, releasing your funds again.
Free information sessions for beginners and real estate investors
Interhouse letting agents regularly organise free evening information sessions at different offices. All the ins and outs are discussed in an informal setting for both beginners and experienced investors. Would you like to join us?
Latest blogs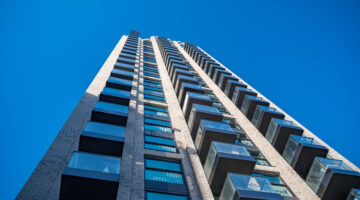 The rent that a tenant must pay for a property is often divided into a basic rent and, in addition, a compensation for supplies and services. Our ...
Stay up to date with the latest developments for landlords
How customers experience Interhouse
We are satisfied about the services offered by Interhouse. They always react quick and they are very reliable. Outstanding services level for us and for tenants with a broad and good network.
Fast service!
Translated from Dutch
What a super service received from Mareille Piena. She has assisted us very well with advice and thinks along with you. Quick response and even available outside office hours if required. You notice from the start that this is someone who is fully committed to it. So if you are looking for that personal contact and just that extra service, then I recommend the full 100% Interhouse Amersfoort. Someone who understands her profession and enjoys it, you will notice it in everything.
Translated from Dutch
Excellent and very professional service. The communication is very efficient and prompt, making you feel in good hands throughout the entire rental process. I would highly recommend Interhouse!
Translated from Dutch
Thank you so much for everything you did for me. I think you are very professional and human. I have seen and felt the values ​​that you as a company stand for in contact. Chapeau. I will strongly announce you in my area.
Translated from Dutch
Interhouse The Hague rents out my apartments and I am more than satisfied with that.
Translated from Dutch
I have excellent experiences with Interhouse The Hague. They know the market like the back of their hand, know how to best design a flat and look for a suitable tenant. They are fast, efficient and helpful. One could not wish for a better mediator.
Translated from Dutch
With great thanks to Bianca, our property is rented out on a very short term. Immediately a very professional approach, transparent, proactive, personal and put our interest in the foreground. We are very well supported with full attention in both real estate and legal matters. Moreover, Interhouse has been able to quickly come up with various potential tenants and choose a tenant that best meets our wishes! I therefore sincerely recommend Interhouse?
Translated from Dutch
Bianca, thanks for the good service when renting out our apartment. A tenant was quickly found and the paperwork was well organized.
Translated from Dutch
Striking personal guidance, very adequate settlement and perfect aftercare. Highly recommended.
Translated from Dutch
Good, expert, charming broker who knows how to sell your product. He knows how the hares walk and acts on that basis.
Translated from Dutch
Fantastic service, friendly assistance and expert advice.
Translated from Dutch
Reliable, contact went quickly and smoothly, friendly girls at the office. My house was rented out quickly, for a good rental price.
Translated from Dutch
As Australian expats, we rented a house through Interhouse Haarlem. From the first meeting Bas was very professional, skilled and flexible, which made the transition to the Netherlands a lot easier for us. We are very pleased with Interhouse and have also hired Bas to handle our own affairs with regard to our investment property. I recommend Interhouse for both tenants and landlords.
Very good professional contact. The rental contracts are quickly adapted to the circumstances on request and the entire apartment is thoroughly cleaned with (rental) transfer with photos of the condition of the apartment.
Translated from Dutch
Fast and clear communication. They say what they do and do what they say. Talked to different departments and all come across as skilful and reliable. Highly recommended!
Translated from Dutch
As a host I used this agency's services to set up the rental contract and do the check-in. Their advice has been very useful, they were always easy to reach if I had questions.
Translated from Dutch
Shortly after the Interhouse office in Utrecht opened, I decided on a whim to drop in on my way to work. A tenant had just given notice and in my introductory meeting with Vincent I asked him to find us a good tenant for our property. He set to work with enthusiasm and in a very professional manner; the property was let to a good tenant, with a great deal of care being taken over the screening, tenancy agreements and 'check-in'. That was just the start of a successful business relationship. We're in regular touch and they take the time to provide me with well-reasoned answers and advice.
Translated from dutch
Our experience of Interhouse as a letting agent for our house is positive. They initially listened carefully to our wishes as landlords. Next they advised us on the best type of contract and conducted a careful screening of potential tenants. The reasoned rejection of an early candidate was proof of how exacting they are in their selection process. We've always had great faith in the matching process as a result. The choice of letting package was also handy for deciding the type of service we wanted from Interhouse during the tenancy period versus doing our own management. We opted to do financial and technical management ourselves, but Interhouse was always available in the background to offer advice if necessary. In our case, the communications, payments and final delivery by the tenant all went smoothly without the assistance of Interhouse. In short, we're satisfied with Interhouse's role. The agents have a clear customer focus and work transparently and quickly.
Translated from Dutch
During this complex Covid 19 period, the Interhouse organization responded very professionally to the changing market conditions and drew attention to the potential risks / consequences for the parties involved in a timely manner. It is an uncertain time for both landlord and tenant and it is pleasant to experience that the (enthusiastic) employees try to serve the parties involved with good advice and a lot of patience. Compliments to the entire team.
Translated from dutch
Great service!
Translated from Dutch
Expert, reliable & friendly. And a free moving trailer, what more could you wish for?
Translated from Dutch
I have been working with Interhouse for many years, to my satisfaction, for the rental of my home. Professional company and good tenant screening.
Translated from Dutch
Fine and good service when delivering a home. Very friendly and helpful.
Translated from Dutch
Very pleasant cooperation! Good advice, fair and transparent.
Translated from Dutch
I have recently moved to the Netherlands and found Interhouse office in Sassenheim extremely friendly and professional while looking for my new apartment. In fact they have even arranged a skype viewing for me as I was still abroad when I have seen a flat I liked on their website. A lot could be arranged online and over the phone and with every request their team (Marcel, Kelly and Anna) were happy to assist in a timely manner. They really made the whole process easy and smooth. I would recommend them to anyone! ?
It doesn't get better than this. For years top quality tenants, hardly any vacancy and the most current good rental contracts. They are always friendly, have really knowledgeable about this specialist broker branch and always roll up their sleeves.
Translated from Dutch
We have rented a nice apartment through Interhouse. From the moment that we indicated that we were interested in the apartment, we were treated in a friendly and helpful manner. During the further process, the broker thought along with us and was flexible. The contact with the secretary and the broker went smoothly and quickly. We received a response the same day. We experienced the cooperation as pleasant. Interhouse adheres to the agreements and is clear in its communication. If you want to rent a house, we recommend Interhouse as a rental agent.
Translated from Dutch
An apartment has been rented from me since October 2016. So far only praise. Payments go smoothly. I would recommend Interhouse to everyone.
Translated from Dutch
My experiences with Interhouse Rotterdam are positive. They keep their promises, know the market and are always willing to think along if you ask. Enthusiastic employees too, which I also find important.
Translated from Dutch
My current home is being completely renovated, so after 5 years I had to start again with a house hunt in the big city ... that went very well, thanks to the people of Interhouse! I am really very satisfied with their personal contact and professional communication. I don't think I could have done better elsewhere. Thank you very much, Interhouse, for taking such good care of your customers, because this made the relocation process much less difficult!
Translated from Dutch
Very reliable, professional people with expertise. Easy to contact, honest in agreements, and no hidden costs. I can highly recommend Interhouse!
Translated from Dutch
The collaboration is lasted for 6 years now. To this day, we are very satisfied with our choice for Interhouse letting agents and the pleasant relationship we have built up.
Translated from Dutch
For more than 10 years we rent out both of our apartments through Interhouse letting agents. Our contact is always trusted. They are critical, professional and easy-going. As far as we are concerned, one of the best rental agents.
Translated from Dutch
Nice cooperation, professional, fast and clear communication and with warm personal attention.
Translated from Dutch
Very customer-oriented, fast service and great approach! Thanks Bianca!
Translated from Dutch
After discussing the possibility to rent out our home, we met Vincent from Interhouse and we were convinced that leaving our home in his hands it was a good idea. Since day one he showed his outmost professionalism managing the relationship between the company paying for our home, the tenants and my husband and I. It's been almost half a year now and we couldn't be more pleased with our relationship with Interhouse. Keep up the good work!
Arranged from A to Z!
Translated from Dutch
We have really great experience with Interhouse. They completely unburden you when renting out your property. From the first phone call, the guidance is super. And through their extensive screening, you can be sure that good tenants will be found. Really recommended!
Translated from Dutch
Cooperation with Interhouse Haarlem is pleasant and always very attentive and knowledgeable Great company
Translated from Dutch
I had been looking for a rental home in the Bollenstreek for some time. I ended up at Interhouse via Google. What a relief compared to other rental brokers! Interhouse Sassenheim responded very adequately to my rental wishes and found a suitable home within 1 week. All agreements were neatly and quickly confirmed. And I always got an appropriate answer to my telephone questions. Interhouse Sassenheim is highly recommended. Fast, a deal is a deal, and transparent. This is renting as it should be.
Translated from Dutch
Interhouse is very helpful and fast in finding tenants for my house even during this special time. Rob and Pim from the company are very professional and responsive. They're highly recommended for renting out properties
From the first contact with Interhouse they were quick to respond and very helpful. Pim van der Deijl assisted us from start to finish and was very professional. As an expat, I found them easy to work with and they were very helpful to answer our specific questions.
Professional, Helpful, Understanding, Availability. Thanks especially to Pim for his input, follow-up and understanding.
We are satisfied with the services of Interhouse Sassenheim, very good contact with the broker, helpful, answering every question.
Translated from Dutch
Due to a job change, we as a family had to move quickly. Travel time would increase greatly if we continued to live where we lived. This happened during the ''intelligent lockdown'' a time with a lot of uncertainty. Via Interhouse we found a beautiful rental house in the pleasant municipality of Voorhout. The appointment for viewing was quickly made, and there was also quick clarity about the documentation that was expected of us. The assessment and the signing of the contract went very fast. Within a month we were in our lovely house with a garden. We really like the house and we are very happy that Interhouse has helped us to take this step in this special time!
Translated from Dutch
The collaboration with Debby van Sörnsen de Koste is very pleasant. The communication was excellent and I have a beautiful house where I enjoy living. Thank you Debby for your kindness I felt seen by you. Compliments also for Interhouse!
Translated from Dutch
My wife and I rented via Interhouse as expats for over 2 years. We had a great experience. They were very accessible and helped us solve any problems quickly. As far as rental agencies go, I would say they are on the strict side, but this reflects in the quality of their services. If they had an apartment that matched what we were looking for at the moment we moved, I wouldn't have hesitated to work with them again.
Very satisfied with Interhouse's service and speed. Everyone knows what they are doing and that is why they all have their answers ready. I would certainly recommend Interhouse as an intermediary for renting a house / apartment. Thank you!
Translated from Dutch
I have now engaged Interhouse Breda 4 times to find tenants for different apartments in Breda and all 4 times with complete satisfaction! Never vacant, very suitable tenants and very smooth communication with the entire team in Breda. They have been very proactive this time and have already taken pictures of the apartment while the apartment still had to be handed over to me! Super satisfied
Translated from Dutch
Reliable agency involved in renting out two of our properties to expats. They also take care of the daily property management. I would recommend them.
Very positive, very quickly mediated, clear agreements, good contact with Bianca and most importantly ... a good result.
Translated from Dutch
We rent out our house in Amersfoort through Interhouse, during our stay abroad. The service is fast and professional. When the first tenants left, they immediately succeeded in finding new ones without vacancy.
Translated from Dutch
The best experience I have had with a real state. They are so caring and follow everything up in time. Everything is going so fast with them. They care as family and I would recommend this to everyone. 🙂
I work with both Interhouse Amsterdam and Rotterdam and very professional, nice people work at both offices. Homes were rented out quickly with a good data check. Even after the services have been delivered, I get quick and competent answers when I ask questions.
Translated from Dutch
I work already for over 5 years with Interhouse and am very happy with their professional approach and the tenants they bring. They work efficient and pleasant to work with.
Great company and wonderful professional service. Loved working with Lars and the team
Very pleasant, fast and professional contact. All worries can be taken off your hands and the experience drips from it. I would and can recommend Interhouse to anyone. Many thanks!
Translated from Dutch
I have experienced the people at Interhouse as professional and very friendly. They have helped me very well when renting out my house - new and exciting for me - from the intake up to and including the final transfer. And I look forward to the rental period with confidence, not only because I was impressed by the detailed agreement that was made, but also because they take the management off my hands.
Translated from Dutch
Our partners