Letting a residential property
You have a lot to deal with when you let a residential property. You want a good tenant and a sound tenancy agreement that covers everything that has been agreed. During the tenancy period you want to maintain a good relationship with your tenant, the rent to be paid on time and the tenant to be satisfied. When the tenancy agreement comes to an end, you want to get your home back in good condition.
What's the best way to let your property as advantageously as possible but without it becoming a burden?
Setting the rent at the correct market rate, obligations arising from legislation governing rent, security of tenure for the tenant and correct use of the right type of tenancy agreement – these all demand professional expertise. The next step of reaching and screening high-quality (expat) tenants is not something you can do by yourself. Such tasks require specialist knowledge, experience and capabilities.
It makes sense to let your home via an experienced specialist. After all, there's an art to renting out a property properly. In the end, you come out as a winner at all levels.
Interhouse Huur- en Verhuurprofessionals has been in the business for over 20 years and built up an impressive track record in the process. We guarantee knowledge, quality, operational effectiveness and visible added value in our services.
On top of all that, you can be assured of clear communications throughout the partnership.
Zelf franchisenemer worden?
Zelfstandig ondernemen in de vastgoedbranche en direct beschikken over de meerwaarde van onze geoptimaliseerde franchiseformules? Vul hieronder uw e-mailadres in en ontvang meer informatie.
What makes Interhouse the right rental estate agent for you?
Franchises throughout the Netherlands and over 20 years in the business
We've built up a long track record over the years. You're never far from an office that knows the local rental market through and through, which is crucial to obtaining the right rent under favourable conditions.
All our customised tenancy agreements are under constant review
VForget standardised tenancy agreements. We use the most up-to-date and comprehensive versions of the right type of contract, drawn up by our partner and tenancy law firm Hielkema&Co. We know exactly which type to use when, and do so correctly.
Unprecedented reach thanks to our (international) network: offline, online and on social media
We are a favourite supplier to Funda, Pararius, multinationals and expat communities. We guarantee maximum publicity for your residential property and in doing so reach the right target group and ultimately find you your high-quality tenant.
Interhouse Letting packages
Our letting packages contain a range of different services, all adjusted to your individual needs and objectives. You will always find one that suits you.
| | | | | |
| --- | --- | --- | --- | --- |
| | Basic | Comfort | Full-service | Guarantee |
| Full letting advice | ✔ | ✔ | ✔ | ✔ |
| Professional online presentation of your property | ✔ | ✔ | ✔ | ✔ |
| Thorough screening of your tenant | ✔ | ✔ | ✔ | ✔ |
| High-quality, customised tenancy agreement | ✔ | ✔ | ✔ | ✔ |
| Detailed report on handing over the keys | ✔ | ✔ | ✔ | ✔ |
| Accurate financial and administrative management | | ✔ | ✔ | ✔ |
| Proper technical management, incl. 24/7 emergency service | | | ✔ | ✔ |
| Verhuur- en beheerdiensten, leegstand en wanbetaling incl. | | | | ✔ |
| | See package | See package | See package | See package |
Excellent and very professional service. The communication is very efficient and prompt, making you feel in good hands throughout the entire rental process. I would highly recommend Interhouse!
Binnen een maand een perfecte woning in Hilversum. Communicatie zoals het moet zijn. Serieus, vriendelijk en een beetje humor. Debby en Carolijn hebben mij echt geholpen. Fijn! David
As a host I used this agency's services to set up the rental contract and do the check-in. Their advice has been very useful, they were always easy to reach if I had questions.
Carolijn and Debby have been instrumental in securing the perfect home away from home, immediate and clear communications and lovely attitude!!! Willing to go to the extra mile to make me comfortable. Thank you Carolijn.
Top communicatie en erg professioneel begeleid gedurende de huur van mijn appartement.
Snelle service, ben tevreden!
More important reasons to choose Interhouse
An international outlook and specialisation right from the start
All our Interhouse employees have an excellent command of English. Multinationals and expats feel at home with us.
All Interhouse employees receive regular training
Our partner and the only specialist tenancy law firm in the Netherlands, Hielkema&Co in Amsterdam, holds training sessions for our employees. We have specialist up-to-date legal knowledge at our fingertips as a result.
An extensive workflow for thorough screening of potential tenants
In addition to checks on the authenticity of ID and a tenant's financial situation, we investigate their rental history, employer, the person themselves and much more. We rent out your property as if it's our own.
An agreeable party to work with
Customer-friendly, focused, transparent, ethical, service-oriented and with quality a constant priority.
Potential tenants like to rent properties via Interhouse
We honour our agreements, are clear about expectations and comply fully with applicable laws and legislation.
Personal data are safe in our hands
Interhouse is fully GDPR-compliant, and that inspires confidence.
Interhouse Vastgoedmanagement as a separate formula for real estate
After rental comes management. We guarantee proper and accurate management via our attractive packages.
Higher yields than costs thanks to our visible added value
Minimum vacant periods, the best-possible rents and first-class tenants. These are our minimum targets for each transaction.
Probably the most experienced agent in the industry thanks to over 20 years in the business
We enjoy a long track record. Steady growth doesn't happen by itself though: we owe it to our satisfied customers.
Investing through investment in real estate
At Interhouse we can advise you on investing in a good investment property. With our local knowledge and professional advice we assist you in the purchase, rental and management of the right object. The highest security, the lowest risks.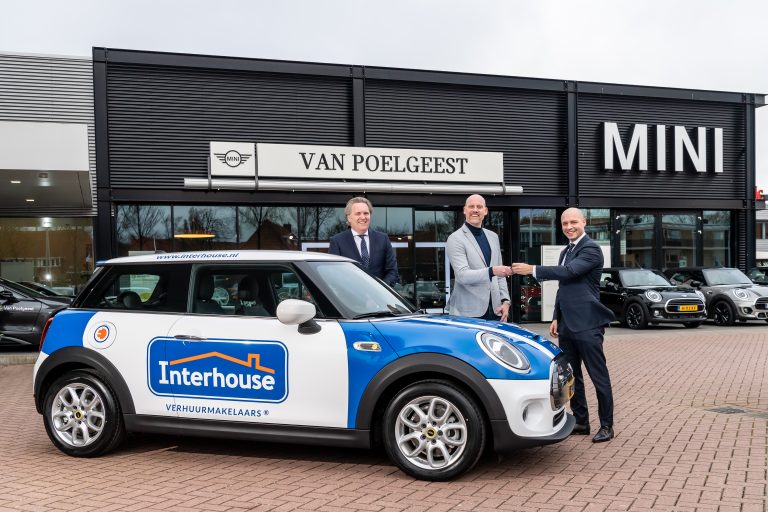 Bas Ros of Interhouse letting agents in Haarlem took delivery of a brand new, fully electric MINI from our regular supplier.