Interhouse Netherlands
Interhouse has been a leading service provider in the real estate industry for over 20 years. A unique network of expert franchisees provides specialist property-related services in exclusive, localised areas. The different formulas focus on the rental, management, sale or purchase of homes. The head office fine-tunes the Interhouse formulas on an ongoing basis, while the number of offices continues to grow. Aspects such as knowledge, (online) marketing, legal matters, customer satisfaction, lead generation and many more are reviewed daily. The drive to optimise our services is in our DNA, as Interhouse believes that things can always be done better.
Contact
How customers experience Interhouse
Excellent and very professional service. The communication is very efficient and prompt, making you feel in good hands throughout the entire rental process. I would highly recommend Interhouse!
Translated from Dutch
During this complex Covid 19 period, the Interhouse organization responded very professionally to the changing market conditions and drew attention to the potential risks / consequences for the parties involved in a timely manner. It is an uncertain time for both landlord and tenant and it is pleasant to experience that the (enthusiastic) employees try to serve the parties involved with good advice and a lot of patience. Compliments to the entire team.
Translated from dutch
I have been working with Interhouse for many years, to my satisfaction, for the rental of my home. Professional company and good tenant screening.
Translated from Dutch
It doesn't get better than this. For years top quality tenants, hardly any vacancy and the most current good rental contracts. They are always friendly, have really knowledgeable about this specialist broker branch and always roll up their sleeves.
Translated from Dutch
For many years, Interhouse property management has been managing my houses and I really like it. Every month I receive my rent on time and I receive a neat overview. I notice that my tenants are also satisfied with a professional manager. Together with Interhouse letting brokers, there is hardly any vacancy and I receive competitive rental prices and the quality of the tenant is extremely good.
Translated from Dutch
I always managed my apartments myself. I have been rid of these concerns for over 2 years now. Everything is taken care of and there is always only contact with me if necessary. Everything has become more professional and a tenant who always paid hard with me pays on time now. A number of final inspections have also been carried out and completed by them. Chapeau and I should have outsourced it earlier.
Translated from Dutch
I really get more profit from this professional manager. You can tell from that everything that they do, they know what they are doing by detail. In addition, they are very (customer) friendly, practical and solution-oriented.
Translated from Dutch
In times when tenants are becoming wiser and laws and regulations are getting more complex, the added value of a good real estate manager like Interhouse is very great. They are nice and approachable people, but also act decisively and professionally.
Translated from Dutch
Highly professional agent, communicates quickly and clearly. No surprises and always prepared to go that extra mile. I rate him with a 9.8 out of 10
Translated from Dutch
Interhouse buying agents was recommended to me as I experienced difficulty finding an apartment in The Hague. They search the market for you and assist with literally everything related to the purchase. I'm very satisfied. Thanks a lot guys!
Translated from Dutch
An apartment has been rented from me since October 2016. So far only praise. Payments go smoothly. I would recommend Interhouse to everyone.
Translated from Dutch
Very reliable, professional people with expertise. Easy to contact, honest in agreements, and no hidden costs. I can highly recommend Interhouse!
Translated from Dutch
The collaboration is lasted for 6 years now. To this day, we are very satisfied with our choice for Interhouse property management and the pleasant relationship we have built up.
Translated from Dutch
For more than 10 years we rent out both of our apartments through Interhouse letting agents. Our contact is always trusted. They are critical, professional and easy-going. As far as we are concerned, one of the best rental agents.
Translated from Dutch
We have really great experience with Interhouse. They completely unburden you when renting out your property. From the first phone call, the guidance is super. And through their extensive screening, you can be sure that good tenants will be found. Really recommended!
Translated from Dutch
Perfect assistance resulted in a highly-efficient process with a fantastic end result. Easy accessibility and excellent knowledge of the market.
Translated from Dutch
My experience of this agent is that he sets to work thoroughly and appropriately and possesses a deep knowledge of real estate. I think he's good at putting himself in the shoes of both the buyer and the vendor, making him an exceedingly competent negotiator for clinching a deal. I can wholeheartedly recommend this agent to sell your property and offer you peace of mind.
Translated from Dutch
Latest blogs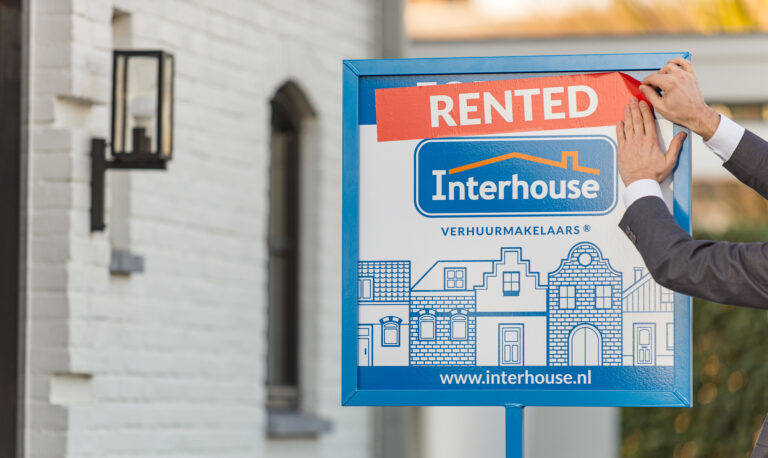 It's possible that not everyone will immediately understand the title of this blog and some will need to read it two or three times to comprehend ...
Our partners