The rent that a tenant must pay for a property is often divided into a basic rent and, in addition, a compensation for supplies and services. Our blog "What Rent Can a Landlord Charge?" delves into the basic rent. All costs related to the property (in addition to the basic rent) that a landlord bills to a tenant monthly fall under the compensation for supplies and services. This compensation can then be further divided into service charges and an advance payment for utilities.
Service charges
Service charges are additional costs associated with renting a property that go beyond the basic rent. These charges encompass various services and amenities provided by the landlord to the tenant in connection with the rental of a property. These can include services such as lighting, cleaning of common areas, expenses related to a caretaker, or even compensation for provided furnishings or decoration within the rented property.
An important aspect of service charges is that they should correspond to actual costs incurred. For instance, if the costs for lighting common areas, allocable to the tenant, amount to €12 annually, the tenant should ultimately pay €1 per month for this expense.
Utilities, Metered or Non-Metered
If the landlord charges the tenant for the consumption of gas, water, electricity, heat, or hot water, this cost falls under utilities. However, it's important to note that these costs are considered utilities only if there is an individual meter for the rented property. In cases where there is no individual meter, these costs are categorized as service charges. The annual settlement of utilities is based on the individual meter. If no individual meter exists, these costs must be settled based on a fair and reasonable apportionment.
Fixed Amount or Actual Settlement?
As previously mentioned, both service charges and utilities should consist of actual services provided at actual costs. Both should be settled annually and at the end of the rental period unless they pertain to fixed costs. An example of fixed costs is the compensation for furnishings or decorations often found in lease agreements. This compensation remains fixed for five years, so it's not practical to settle this annually.
What Are NOT Considered Service Charges?
In an assisted living or senior housing complex, there may be charges for care services, such as meals, nursing, and alarm services. These are referred to as care service charges. Costs related to taxes and levies, such as water board taxes, waste disposal charges, sewerage fees, and purification levies, are also not considered service charges. If the landlord is charged for levies meant for the tenant, they can pass on the bill, but these charges should not be included in the monthly service charges.
All-Inclusive Rent
If more is provided or delivered than just the bare property, this should be reflected in the rent breakdown. Otherwise, it might be considered an all-inclusive rent. The tenant has the right to have this rent split. If this is done through the rent commission, it could have significant consequences for the future rent price.
Complicated?
We believe it is, and more complicated than necessary. Below is a diagram that might provide a clearer understanding. Fortunately, our employees are regularly trained and equipped with the best lease agreements. Renting a property truly remains an art in itself.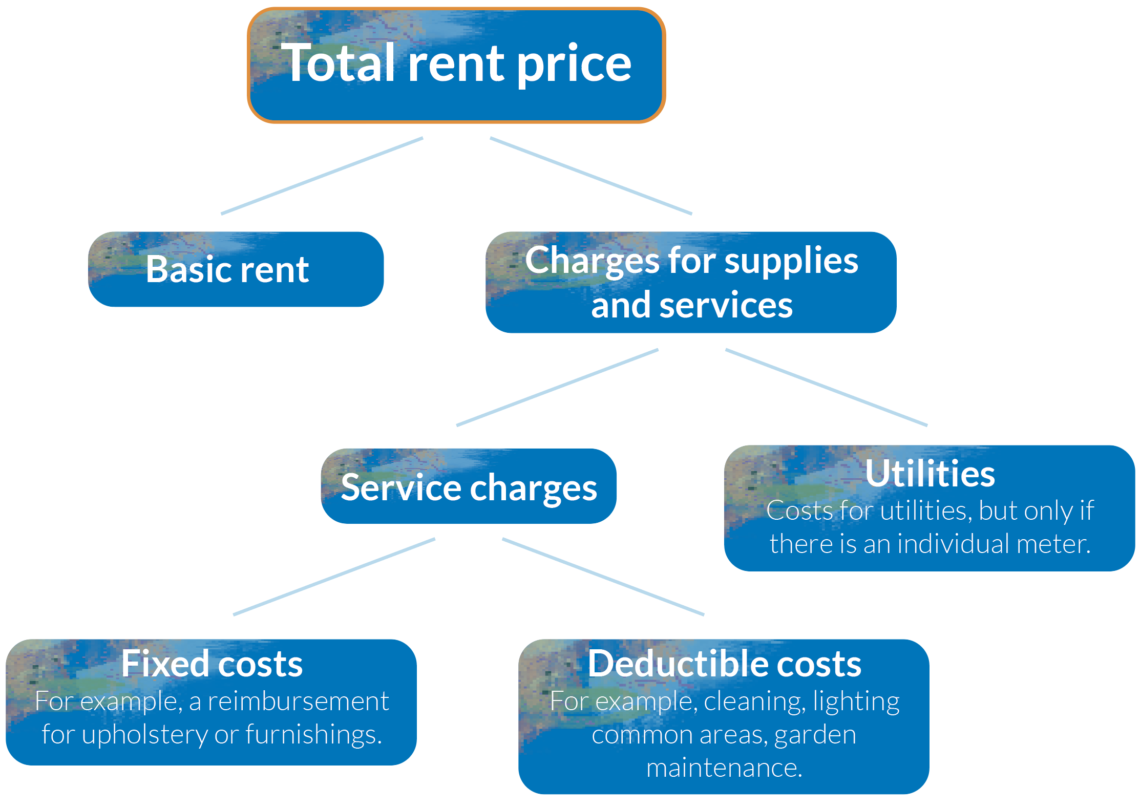 Are you looking for more information? Contact us directly.